c. 1999
Boroff Publication Services, Inc.
Tiffin, OHio 44883-1644
In July 1834 Sidney (Sea) Smith purchased lands at the northwest corner of the intersection of the Kilbourne Street and Jefferson Street and called this town "Republic," meaning "public good". Smith was a shrewd individual and made people pay high prices to settle here. John Wright was the first to build a log house in this village. It later became "Gale's Store" in 1847, and remained as such until its removal in 1869.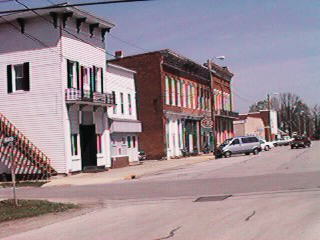 In 1835 the town was composed of Gale's Store, William Pierce's blacksmith shop, Amos Hall's shoe shop and several log houses. As the town grew, more additions were made until it was 1 mile square with a small part on the west side for Woodeard's Barrel Factory.

This location made it in the exact center of Scipio Township and following that, the name "Scipio Center" was changed to Republic in 1834.