c. 1999
Boroff Publication Services, Inc.
Tiffin, Ohio 44883-1644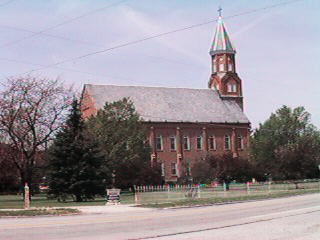 New Riegel is located in Big Spring Township which lies in the southwest corner of Seneca County. This was the last township in the county to be organized. Until 1832, the southwest corner of the township was part of a Wyandot Indian reservation and was not available to land buyers. On March 6, 1833, Big Spring was as constituted a legal township. The township was in a part of the county known as the Black Swamp and was named for a large, pure spring of water at Springville. The census of 1840 listed township population as 925.
As of 1833, a large part of the population was composed of German and French immigrants. On September 16, 1833, Anthony Schindler acquired a parcel of land in the township. He was soon followed by other residents of his homeland, Riegel, Germany. They settled in an area known as Wolf's Creek.
The creek received its name because of a large number of wolves in the surrounding forest. At this time, the area was forestland and had such a large number of wolves that Seneca County was paying a $6 bounty on the animal. The German settlers soon changed the name of the little village to New Riegel in memory of their homeland. The village was surveyed for Anthony Schindler in January, 1850 by G. H. Hemings.