c. 1999
Boroff Publication Services, Inc.
Tiffin, Ohio 44883-1644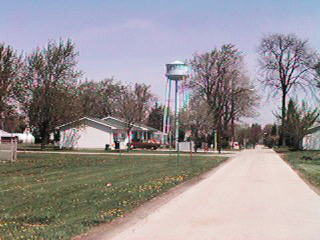 William Lang in his history written in 1880 says that Philip J. Price, Julius Treat and Thomas T. Treat, in the summer of 1837, laid out a town upon the corners of sections nine, ten, fifteen and sixteen and called it "Bloomville."
Simon Keller owned the land on the northwest corner, Edward Cooley on the southeast corner, Price and Treat brothers on the southwest corner, and Edward Owen on the northeast. In 1850 the town contained a dozen buildings. Frederick Zimmerman, Conrad Klahr, William Hathaway, Charles Keller, John Hunsicker, Wm. Cooley, Dr. George Weeks, Jonathan Kastner, Jacob Estep and Jacob Briner with their families were the inhabitants.
While Bloomville was surveyed in 1837, it was not until 1874 that it was incorporated. A petition signed by 112 residents asking for the incorporation of Bloomville was presented to the commissioners. The first elections were held in 1875, when Jacob Hossler was elected mayor, S. S. Lehman, clerk, J. T. Reid, S. Holt, L.D. Bevington, E.J. Turner, Conrad Klahr and C. B. Ealker, councilmen, John Swigert, treasurer, and E. B. Watson, marshall.
Bloomville is located on State Route 19, just 2 miles south of US 224. It is situated 25 miles south of the Ohio Turnpike and has easy access to Lake Erie from the harbor at Sandusky - 32 miles to the north. The Pennsylvania RR passes through the edge of Bloomville, providing a means of shipping products into and out of the area.